Green Corridor Project
Published on July 30, 2015
On 24 July 2015 financial close was reached in New York for the Green Corridor Project. The Green Corridor Project is first infrastructural Public Private Partnership project in Aruba and the region. The Green Corridor Project is currently and for the foreseeable future also one of the biggest infrastructure projects of the State of Aruba.
The closing of this deal was extremely complicated as it entails design, build, finance and maintenance of the infrastructure. The agreement executed has a dur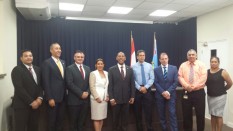 ation exceeding 18 years. During the procurement process AMDC Law assisted, guided and advised one of the then candidates successfully, which resulted in the candidate being appointed by the State of Aruba as preferred. After this AMDC Law once again guided the now appointed preferred bidder in a debt funding competition to select the Lenders for the Green Corridor Project. After the appointment of the preferred Lenders AMDC Law assisted the preferred bidder with the financial close process, until financial close was reached. During the procurement process, debt funding competition and financial close process AMDC Law advised, negotiated and drafted, together with the team of attorneys representing each of the parties involved, various agreements and security documents including the DBFM Agreement, EPC Agreement, Direct Agreements, Escrow Agreements, Intellectual Property Agreements, Financing Documents and Security Documents.